Six mods were downloaded every second on mod.io in 2021. More than half were on console - a first mod experience for many players. Think about your first mod experience, as a player, a mod maker. As we pass 300M, it's the sum of the parts which matters most to me.
My motivation to start the year is to smash this number, knowing everytime we do it's another player engaging deeper with their favorite game.
A lookback at how far we've come
This milestone marks explosive annual growth, a near three hundred percent increase in mods created, and two hundred and fifty percent increase in mods downloaded by players. With our DNA in ModDB, official mods are the future of UGC, and we're excited to be taking it together.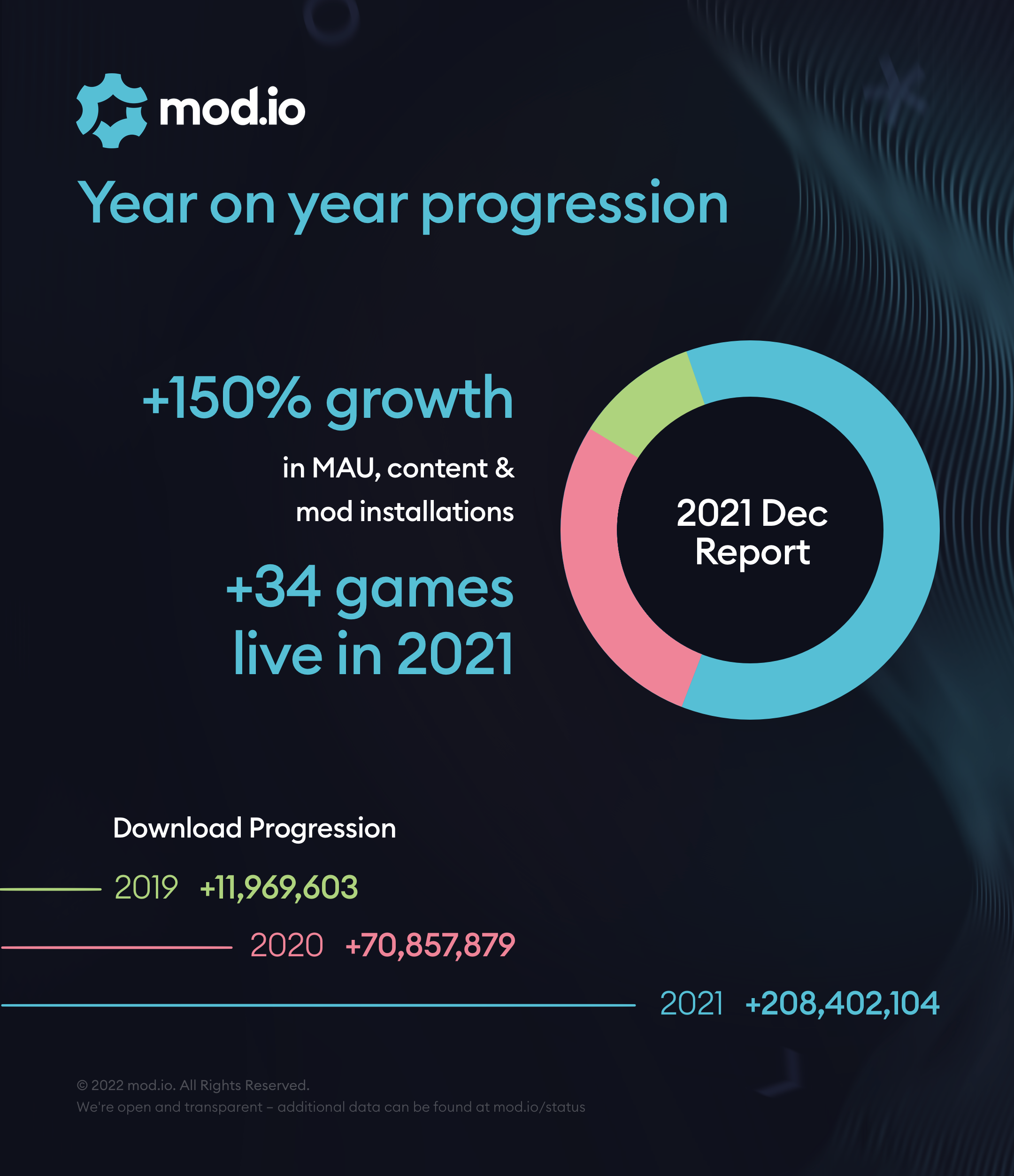 Half of mod.io's nearly 10m users are playing and accessing official mod content on consoles, drawn to curated, fresh UGC available in-game. It's this convenience and boost to the player base which has drawn more developers to adopt official mods in their console releases. Console players access more than 20 pieces of official mod content monthly, and one in three players who own titles supported by mod.io are using official mod content.
Our goal remains to enable mods everywhere. To further this, in 2022 we'll be continuing to innovate with our platform, our offering to studios, and engagement with players and mod creators.
Celebrating the creators
To celebrate passing 300M, we're sharing a lookback at our origins, and highlighting some mod creators and their projects who've helped make 2021's success possible.
What's next
We're excited to share our revised mod.io platform, making accessing and browsing mods more intuitive. Our goal this year is to further impact UGC barriers to entry. For our players, our developers and the games they both share.
Official mod support on consoles continues to prove extremely popular, and as we expand across more games on more platforms, we're focused on giving fans reasons to return to their games. Seasonal creator events, profiling creators in collaboration with studios. New community discovery and moderation features for existing games. Bringing players and studios closer together, regardless of game system or store.
This year stands on the shoulders of those prior, and while we celebrate this milestone, the next will be here before we can blink.

Scott, founder mod.io and ModDB