When suitable and possible, the mod.io platform aims to automate as much functionality for game and mod creators. Moderating is no different, here is how the system works.
Setting up your game
The first step for game owners to complete, is to decide how you want content for your game to be moderated. On the "options" page in your games control panel, there are two settings that matter, autoban and curation.
Autoban: When a user from the community reports a mod, if the total number of unresolved reports (excluding DMCA) exceeds the number you select here, the corresponding mod will be automatically deleted and these reports will be resolved as completed.
Curation: When a user from the community submits a new mod, the curation setting determines when that mod can go live.

No curation: The mod author is in control and can put their mod live immediately without assistance.
Paid curation: Mods available for purchase will require a moderator from your team to accept them. All other mods will follow the "no curation" process.
Full curation: All mods submitted will require a moderator from your team to accept them.

Setting up your team
The second step for game owners to complete, is to issue moderation and management permission to members from your company and community. On the "team" page in your games control panel, you can invite members to join your team via their username or email address. When a user accepts the join request, you can assign them one of three roles:
Moderator: A moderator has total control over all mods available for this game. They can add, accept, edit and (soft) delete mods, and will be able to view mods pending curation. They cannot view mod reports or edit the game.
Manager: A manager has moderator permission, and can additionally view mod reports and DMCA takedowns submitted by the community. They cannot edit the game.
Administrator: An administrator has full permission over the game profile and all content submitted to the game.

Mods status
All mods submitted to mod.io, have a permission status attached to them. Only accepted and public mods are shown to normal users, but as a moderator you will see everything.
Not Accepted: This mod is pending moderation, which means either curation is turned on and it cannot automatically "go live", or the mod author has not yet uploaded a mod file, which is required for it to be playable and accepted.
Accepted: The mod is accepted, which was either automatic if "no curation" was turned on in game settings, or if a moderator has accepted the mod.
Deleted: The mod is deleted, either by a moderator or the mod creator. It will no longer be available via the API.
In addition mods have a "public" and "private" setting which allows the mod creator to control the availability of their mod via the API, without changing the mods status.
Moderating mods
If you have been added to a games team, and granted a "moderator" or higher permission, you will be able to see all mods available for that game, irrespective of their status or visibility when browsing the website. For example, in the screenshot below, the first mod is deleted so we can see it's name is red with a "trash icon", the second mod is pending acceptance so it's name is dulled with a "clock icon" and the third mod is private, so it has a "lock icon".
As a moderator if you view a mod profile, you will see a few things normal users don't. The first is if the mods permission has changed, you will see a full audit log of the changes (with descriptions if provided). In this case the mod has been deleted so you see the audit history in a big red box.

The second thing to notice if you look carefully, is the "Edit" (pencil), "Accept" (check), "Delete" (trash) and "Report" (flag) icons. As a moderator if you click the check icon you will be able to change the mods status from "Not Accepted" to "Accepted" and vice versa, and if you click the "Delete" icon you will be able to change the mods status from "Deleted" to "Not Accepted" and vice versa. If you want to make sure a mod is available, you should make sure it is accepted and public.

Finally, as a moderator if you head to the updates page by clicking the "Bell" icon next to your username, you will be taken to a page where you can view all mods pending moderation. Provided a mod has a status of either "Accepted" or "Deleted", you will be able to remove it from the pending moderation queue (by clicking the "X" icon) and move onto the next mod.

Reporting mods
Users can report mods via the website by clicking the "Report" icon, and also via the API if implemented by the game developer. There are two types of reports that can be submitted. A DMCA copyright takedown report, and a generic report for any reason.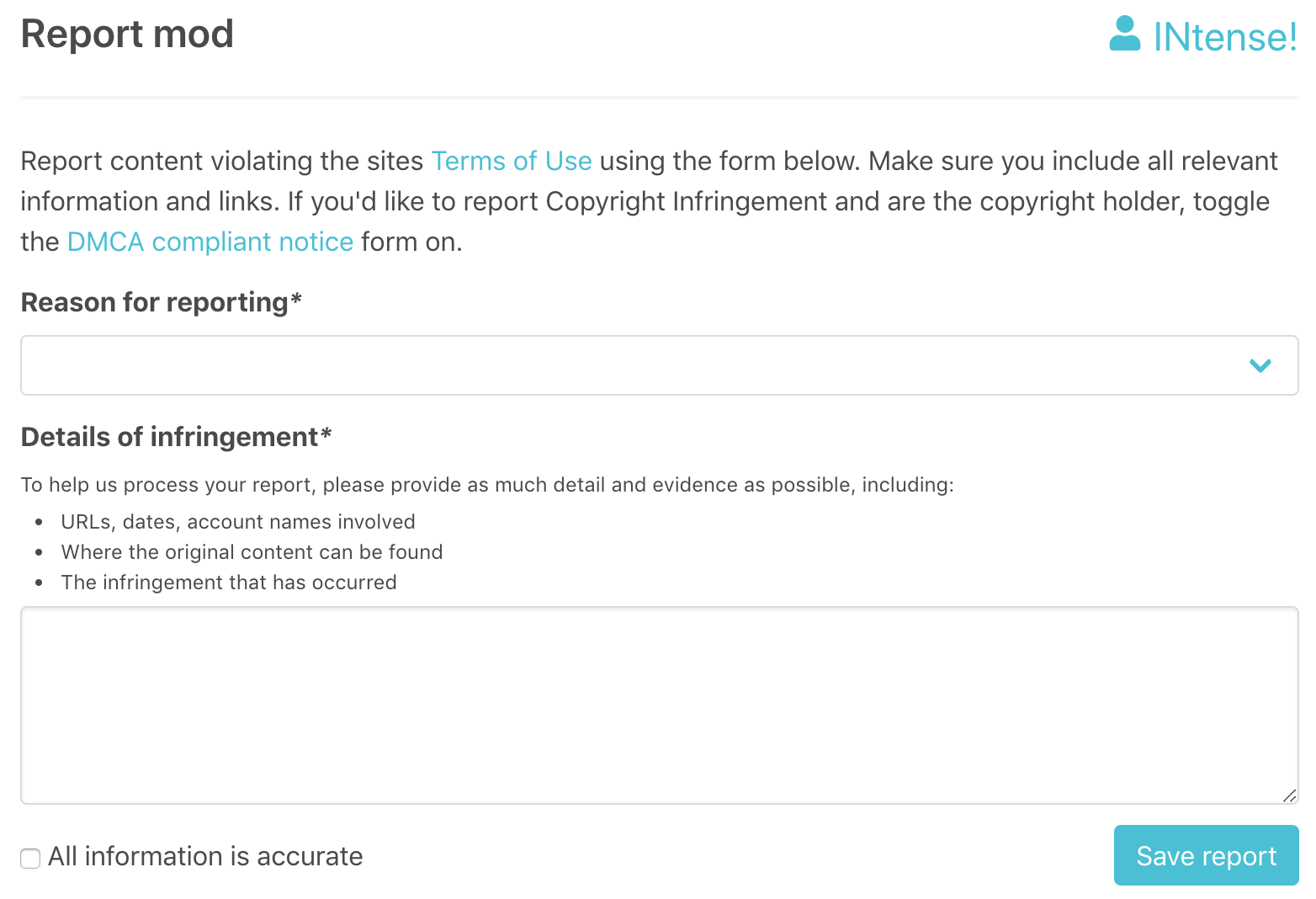 A user will include text explaining the reason for the report
Managing reports
All reports end up in the reports page in the message center. Provided you have "manager" or "administrator" permission in the games team, you will be able to access these reports and will be alerted to them by the "flag" icon next to your avatar. The reports page will look something like this: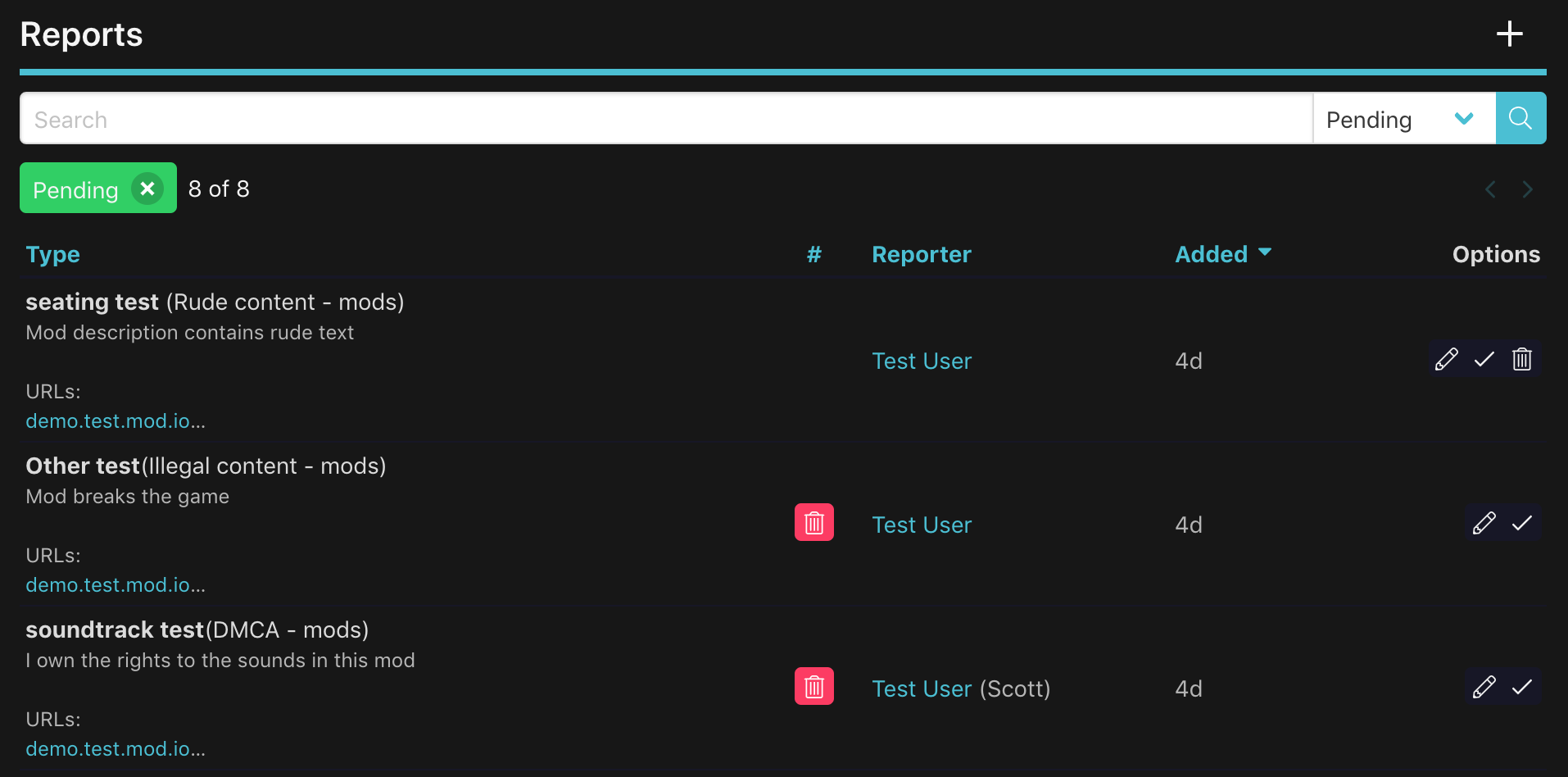 The important things to know are:
By default "pending" reports are shown.

You can mark any pending report as completed by clicking the "check" icon.
You can also click the delete icon, which will delete the mod and mark the report as completed.
If the same mod has received multiple reports, you will need to mark the reports as completed one at a time after you have decided what action to take (we recommend you click the delete icon only once).
If you click the report heading, you will be taken to the mods profile. If you click the report body, the text submitted by the user will be expanded and shown.
The # column indicates the current status of the mod (in this case the red "trash" icon indicates those mods have been deleted).
If you ignore the reports page and let the reports build up, once a mod hits the "auto ban" limit (we explained above), that mod will be automatically deleted and all of the reports marked as resolved.

You can also choose to view "completed" reports.

Completed reports is the same view as "pending", it shows you a history of action taken. You can mark as "completed" report as unresolved if you want.

Finally, there is also an "aggregate view".

The aggregate view shows all reports (completed and pending), ordered by the mod with the most number of reports first.
It provides a handy summary of problematic mods.
We hope you have enjoyed this guide to mod moderation on mod.io. We welcome any questions or feedback to improve the system on our discord channel. We are currently working on a more comprehensive control panel, which aims to show all mods in a single view, allowing you to perform moderation actions more rapidly. We will update this guide when it rolls outs.