2021 has been quite the year for gaming. It began with the IPO of a game made entirely by its players, which led to the rise of the metaverse, followed by a frenzy of NFT's, which has finally stabilized as Web3. As a fan of Age of Empires II & III, the next iteration is here 16 years on, and like many, my excitement never waived due to the incredible modding community which has been supporting this game since launch.
Wherever you stand on each of these trends, the theme underpinning them all is the shift towards player-led innovation and economies.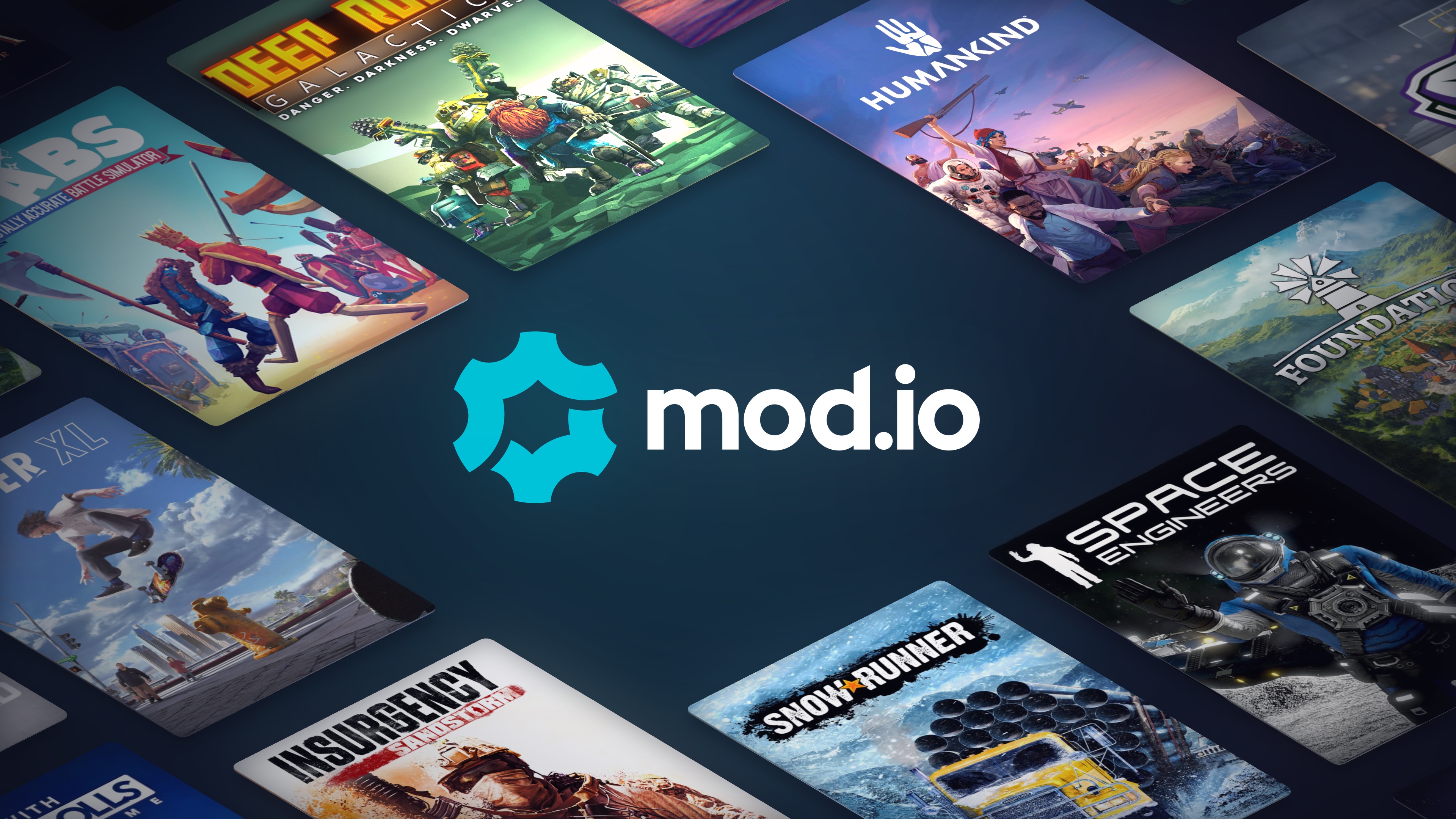 Proudly powering mods for 80 games on 11 platforms, with 1m mods created and downloaded 177m times in 2021
Our mission at mod.io to bring "mods everywhere" - reflects our desire to help studios take the first step towards player empowerment. Having spent close to two decades running ModDB prior, our respect for content creators is legendary, as is our belief that gaming will be in great shape the more studios can make UGC official and accessible for their players. We also recognise that for many studios - modding or UGC presents a real challenge because it introduces new variables into the mix that fall well outside the usual realm of game development - so, at mod.io, we started building the tools to change that.
Welcoming industry leading investors
Today, we're excited to announce the next step in our journey, a US$26m Series A led by Tencent, who join LEGO Ventures, Makers Fund, Play Ventures, Sequoia Capital India's Surge, GameTech Ventures and OIF Ventures in the round. The funds will be used to further build upon a vision to evolve collaborative digital play, a passion shared by everyone at mod.io, as we aim to help more studios start their own journey with UGC.
"At Tencent, we believe that UGC drives innovation in gaming. Many of the largest video game genres today started out as UGC, or mods, built by enthusiasts on top of existing products. For over two decades, Scott and his team have been instrumental in supporting the growth of this community. As a stakeholder in the future of this industry, Tencent is proud to support mod.io on its path to unlock creativity across the gaming ecosystem."

- Bo Wang, Corporate Vice President of Tencent Games
"The awesome team at mod.io have created a UGC platform that allows any game to be rebuilt and adapted by the player. We believe this is a great example of the core LEGO idea applied to digital play, and we are extremely excited to support mod.io as they further expand the platform, community and range of games utilising this highly promising technology."

- Rob Lowe, Managing Director of Digital Play, LEGO Ventures
Building the complete mod platform for games
Our proven tech offers a turnkey UGC service which our gaming partners can lean on to provide a safe, scalable and engaging experience for their creators and players. At the heart are our SDKs for Unity and Unreal, making mods accessible in-game at a click, easy to integrate, and entirely platform agnostic. Their integration is all developers have to do to start their own creator community with mod.io.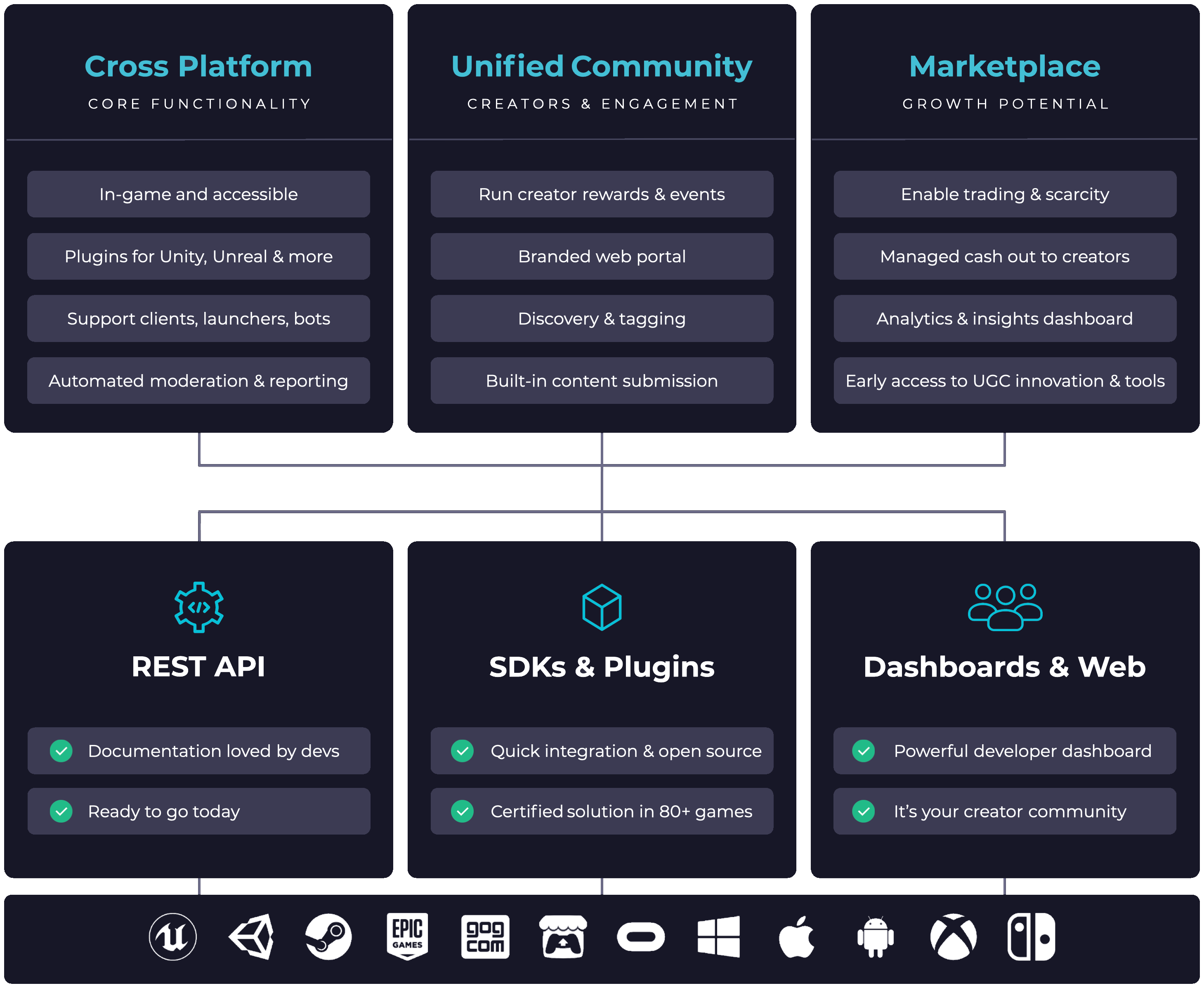 Three pillars of functionality that form the basis of mod.io's turnkey UGC solution
Once content starts flowing, the full breadth of functionality provided by mod.io clicks into gear, with advanced content screening, reporting and moderation, giving studios full control and flexibility. Tagging, discovery and ranking algorithms organically elevate trending content to players. Developer dashboards provide key insight into what players want, who the top creators are, and what % of users are engaging with mods on each platform on a daily basis. All of this is accessible via REST APIs, with branded web portals allowing deep customization in-game and out - built and supported by our expert team.
Working with world-class studios to enable mods everywhere
At the beginning of 2021 we helped three studios SnowRunner, Space Engineers and Skater XL launch cross-platform mod support on PC and console. Prior to this point modding was for all intents and purposes a PC-only endeavor. The response was incredible, with console players downloading up to five times more content, and the most popular mods reaching 300,000 subscribers. In the last year we've grown to power the mod communities for 80 games including Humankind and Deep Rock Galactic, and continue to pioneer the adoption of cross-platform mod support with games live on 11 platforms across PC, console, mobile and VR.
"Collaborating with mod.io has been a great experience, and we are very satisfied with the integration and player experience mod.io as a platform provides to the game. It also became clear to us that mod.io is working hard to constantly improve their platform, which shows significant promise for the future of the service."

- Søren Lundgaard, CEO Ghost Ship Studios, creators of Deep Rock Galactic.
Today, more than 20 million pieces of user-generated content are distributed monthly using mod.io to over 3 million players. For us that's 300% YoY growth, and annually, that's hundreds of millions of pieces of content, made by fans, shared with their community, and supported by the developer who's product continually evolves.
What's next
Players have shown a desire to personalize and engage at a deeper level with their favorite games. Within an industry set to surpass $180b annually in 2021, the popularity of UGC in video games continues to grow rapidly. By 2025, we predict $1 in every $10 spent on video games will be spent on UGC, a 400% increase of estimated spend in 2021. To help realise our mission, we're excited to be at the forefront of assisting studios to explore how they can enable mods everywhere, and harness the creativity of UGC in meaningful innovative ways.
We've taken the first step to provide the foundation for supporting a strong and healthy ecosystem of player-led creation that studios can take ownership of and ship everywhere their game is released. Today's $26m raise allows us to think long term, and continue our work to help studios capture the value UGC creates, to drive increased player engagement, revenue and retention, through innovation in UGC marketplaces, providing access to metrics that enable strategic decision making, and leveling up content creation with dynamic metadata and events for creators.
For studios interested to learn more about our roadmap, and leverage our expertise to launch your own creator community - reach out to discuss your UGC plans and goals.
If you are interested in what we are building, and share our passion for working with the best studios in the world solving UGC at immense scale - see careers at mod.io for open roles to join our team.