Australia, 9 March 2020 - mod.io, a cross-platform service that allows game developers to enable user-generated content and modifications with minimal development, today announced closing a US$1M seed round led by Play Ventures with angel investors including UK based GameTech Ventures. The service plans to use the seed funding to expand the number of platforms and developers supported.
mod.io is a clientless API that allows developers to quickly and easily harness players' creativity to create a pipeline of fresh game content, and to set up and manage a marketplace for user-generated content (UGC). The service currently supports games with a C++ SDK and native plugins for Unity and Unreal, across eight different stores on PC, console, mobile and VR.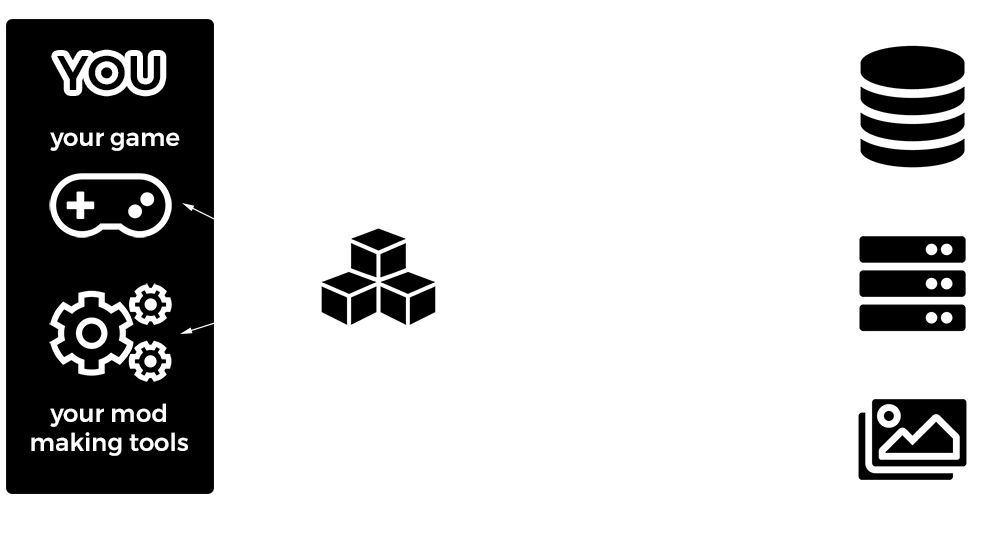 mod.io makes cross-platform user-generated content support easy
"Creating a constant flow of content updates is expensive and time-consuming for developers. mod.io helps them cut all that stress and cost away by tapping into the creative power of their players," says Scott Reismanis, CEO.

He adds, "It's a win-win for developers, creators and players. Developers and creators benefit from an in-game UGC economy, and players stay engaged playing and creating mods for their favourite games."
In just 12 months, mod.io has delivered over 500,000 hours of unique content across 31 games, including MORDHAU, TABS, and Descenders. mod.io currently hosts over 82,000 mods, accessed by 100,000 daily active users, generating 22 million downloads.
Marko Grgurovic of Triternion, creator of MORDHAU says, "Integrating mod.io has been quick and painless, and the value added to the game by mod creators has been massive."
Some of the popular MORDHAU mods shared on mod.io
Mike Rose of No More Robots, publisher of Descenders adds, "Working with mod.io was one of the best things we've done. It's brought in a whole new range of players, and made supporting our modding community a breeze."
Jump into bike parks in Descenders
mod.io is founded by Scott Reismanis and Patrick Sotirou, both veterans with a combined 30 years experience in UGC. Prior to mod.io, Reismanis launched ModDB, a database for creators to share game modifications, which reaches 4 million gamers monthly and has generated over half a billion downloads in its lifetime.
mod.io's seed round was led by Play Ventures, a leading early stage gaming venture capital fund. "User-generated content in games is a huge untapped opportunity, especially with live service titles. As gamemakers ourselves, we can't wait to see mod.io shake up how the industry does content development, and change the lives of developers for the better," says Harri Manninen, Founding Partner at Play Ventures.
mod.io plans to utilise its funding to expand its cross-platform support to include consoles, mobile and VR, in addition to PC. The team also plans to expand its partnerships with game developers from independent and AAA studios alike. Developers interested in working with mod.io to launch a first class UGC marketplace can contact the team for a demonstration.
About mod.io
mod.io is a cross-platform, user-generated content service designed for studios that want to enable the creativity of their community on PC, console, mobile and VR. It offers an automated, scalable, easy to implement way to tap into the goodwill and growth user-generated content can drive, and is designed for the modern game that values long-term user engagement and creator economies.

About Play Ventures
Play Ventures is the leading early stage gaming venture capital firm with offices in Singapore and Helsinki, Finland. Founded by gaming industry veterans Henric Suuronen and Harri Manninen, who have made successful exits to King and Disney respectively, Play Ventures invests globally in pre-seed and seed stage gaming startups and focuses on free-to-play mobile and PC opportunities as well as gaming services startups.
For more information, please visit www.playventures.vc.

About Scott Reismanis, CEO
Scott has a passion for enabling creative communities, with experience that spans 20 years beginning with ModDB, which reaches over 4 million gamers each month and has served over half a billion downloads in its time. mod.io continues this journey, offering developers powerful new ways of establishing creator economies, with the firm belief that UGC will become a key pillar in the future of gaming.
Scott's headshot can be found here.