Meeple Station is the first game to make use of the official mod.io Unity Plugin (with UI) for mod support. It's a huge milestone for us, this plugin has a lot of ideas built in and will soon be submitted to the Unity Asset store. Some of these key features include:
Getting up and running takes only a couple of hours! All you need to do is add your game to get an API key. Then drop the plugin into your Unity game, enter your API key and game ID, and you should have a fully functional mod-browsing and downloading interface operational. All you need to worry about is loading the mods, we handle the rest. I don't think there is an easier option than this available for developers.
Well thought out UI. A few months ago we took a look at the UI's created by other games, as we begun designing ours. What we found was actually a lack of UI, which surprized us. Game engines are not designed for browsing content, plus making a game is hard enough - so we understand that browsing mods is probably not easy to do or a high priority task, but this is something we wanted to change. With that in mind we built a highly functional UI, that feels more like a web app. Our aim is to make modding highly accessible, so this was important for us.
Anonymous mod installation. The final big feature is about creating an interface that allows instant, 1 click mod installs. One of the benefits of mod.io being an open platform designed to work behind the scenes, is that your end users can download mods without the need to create an account. However without an account they cannot access features like "sync their mod collection or submit ratings" - so the plugin gives the users the option to login should they wish. It's a great example of how versatile the system is for developers, if you want to replace our systems with your own you can, almost everything is designed to be optional "use-what-you-need".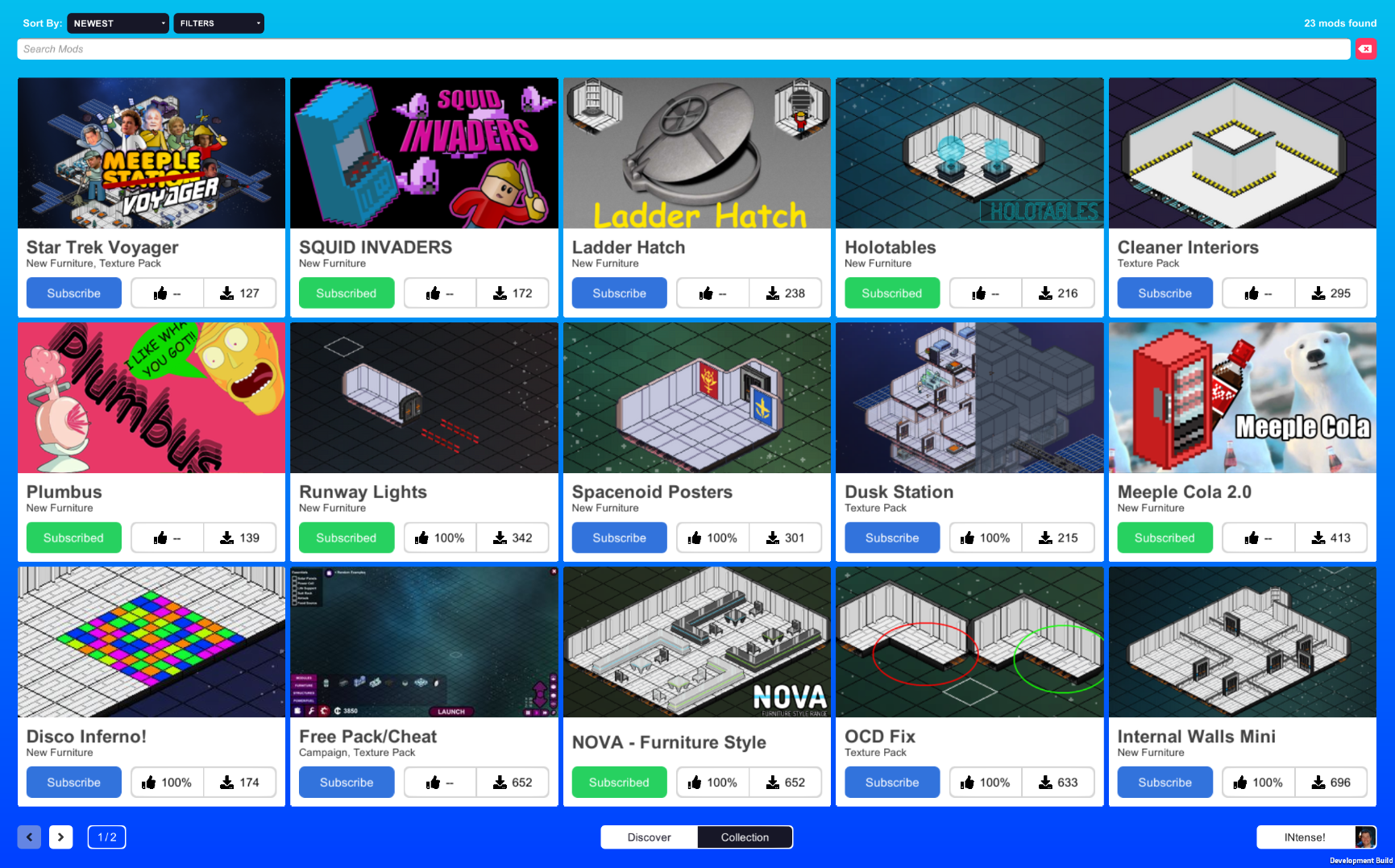 Example Unity UI for mod.io
Anyhow enough about mod.io Unity Plugin and back to the game! Have you ever wondered what managing a space station would feel like, with mindless Meeples in control of the operation? Messy is what it is, but don't let that stop you from building an incredible space station while battling space pirates, meteor storms and other space oddities. Inspired by Rimworld, Meeple Station is an early access title released on Steam and itch.io for PC, Mac and Linux.
Already the game has amassed an incredibly active modding community here on mod.io, with creations such as Plumbus, Internal Walls Mini, Meeple Cola 2.0, NOVA - Furniture Style Range and much much more. Check it out!